Wow! It's been waiting backstage for a couple of months now, but double-shot review of Wayne Douglas Barlowe's
Expedition
and the computer-animated Discovery Channel adaptation of it,
Alien Planet
is now live at
RevolutionSF
.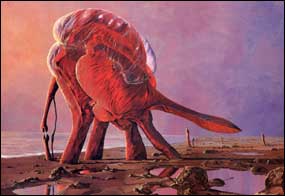 Barlowe's
Expedition
made a
huge
impact on me when it first came out, something I've blogged about
some time ago
. The book is a visual tour-de-force, and the computer-animated film is a visual feast as well. Unfortunately, the filmmakers seem more enamoured with their additions to the story, as well as a ham-fisted "plot." The film is still amazing, but not nearly as intelligent as it could've been. Read the whole review at the other end of the link to see me reel off all my criticisms.
Now Playing: The Pretenders
The Singles